Why Should Visit Saputara Hill Station Once In A Life?
You have going to enter nature's womb. Take a deep breath. Winter is the best time to reach a Saputara. In Gujarat, that is only one hill station and that is Saputara Hill Station in Gujarat. Saputara is a small hill station located in Sahyadris or the Western Ghats. It is part of the Dang district in Gujrat. It is a tourist destination point in Gujrat.
The Artists Village cultural center displays and sells, crafts and tribal arts. Artifacts, including ritual objects, trace the heritage of the local Dang tribe at the Saputara Tribal Museum. Green spaces with picnic spots include the Step Garden and the Lake Garden, set on Lake Saputara. Governor's Hill byway offers views of the surrounding rivers and valleys. 'Saputara' means "the abode of serpents", as the native tribal communities worship them.
This hill station is a popular weekend getaway spot. People go to Saputara to unwind and rejuvenate in its pristine and lush environment, especially in the monsoons. Saputara is also popular for the various activities one can do – trekking, parasailing, boating, hiking, picnics, paragliding, camping, ropeway rides, gondola rides, and more. The following are the Places To Visit in Saputara Hill Station.
5 Popular Places of Saputara Hill Station in Gujarat
1. Gira Waterfalls:
The best time to visit the falls is during the monsoon, at that time water level increases, it makes Gira falls some of the most beautiful in the country. People usually stop by the falls on their way from or to Saputara. There are spaces around the falls where you can enjoy a picnic and hang out. Gira Waterfalls is a favorite among visitors for its enchanting and peaceful atmosphere.
It is located 50 km from Saputara, they are a highly popular tourist destination. These seasonal falls are 30m high and feed into the Ambika River. 3 km from Waghai, the Gira waterfalls can be reached after parking the vehicles and walking for a kilometer through forests.
Also check: Best Travel Hashtags to Get Followers
2. Vansda National Park & Purna Wildlife Sanctuary Saputara:
Vansda National Park is in the district of Navsari which is a 24 sq. km protected area in Gujarat. The Park was built in 1979, and since 1952 no trees have been felled there. Located around the Ambika River, the deciduous trees of the park are home to the Gira waterfalls, a botanical garden, the local tribe, a conservation center, and a deer breeding center.
In the park, you can spot leopards, four-horned antelopes, Indian porcupines, deer, flying squirrels, langurs, rhesus macaques, vipers, cobras, pythons, and other animals. The park is also famous for the more than 440 flowering plant species and approx. 120 species of spider, including the giant wood spider.
Vansda National Park Timing: 8:00 AM to 5:00 PM All Day
Vansda National Park Entry Fees
| Indian Tourist | Foreigner Tourist |
| --- | --- |
| 20/- INR (Per Person) Entry Fees | 5$ US Dollar (Per Person) Entry Fees |
| 200/- INR Vehicle Up to 6 Person | 20$ Vehicle Up to 6 Person |
| 500/- INR Vehicle Up to 15 Person | 50$ Vehicle Up to 15 Person |
| 1750/- INR Vehicle Up to 60 Person | 175$ Vehicle Up to 60 Person |
| 100/- INR Extra for Camera | 10$ Extra for Camera |
| 50/- INR Guide (For Four Hours) | 20$ Guide (For Four Hours) |
Also Check: Best Places to Visit in Vadodara
3. Saputara Lake:
Burrowed in the middle of the hill station with lush green hills surrounding it, Saputara Lake is the primary tourist destination. The lake's clear water and tree-lined banks draw people for a peaceful and rejuvenating time. To explore it and enjoy the fresh atmosphere, you can take boat rides on sailboats, paddle boats, and rowing boats. The banks of the lake are loved picnic spots, where you can enjoy a meal in the middle of breathtaking surroundings.
Also read: Arishfa Khan Biography
4. Saputara Tribal Museum: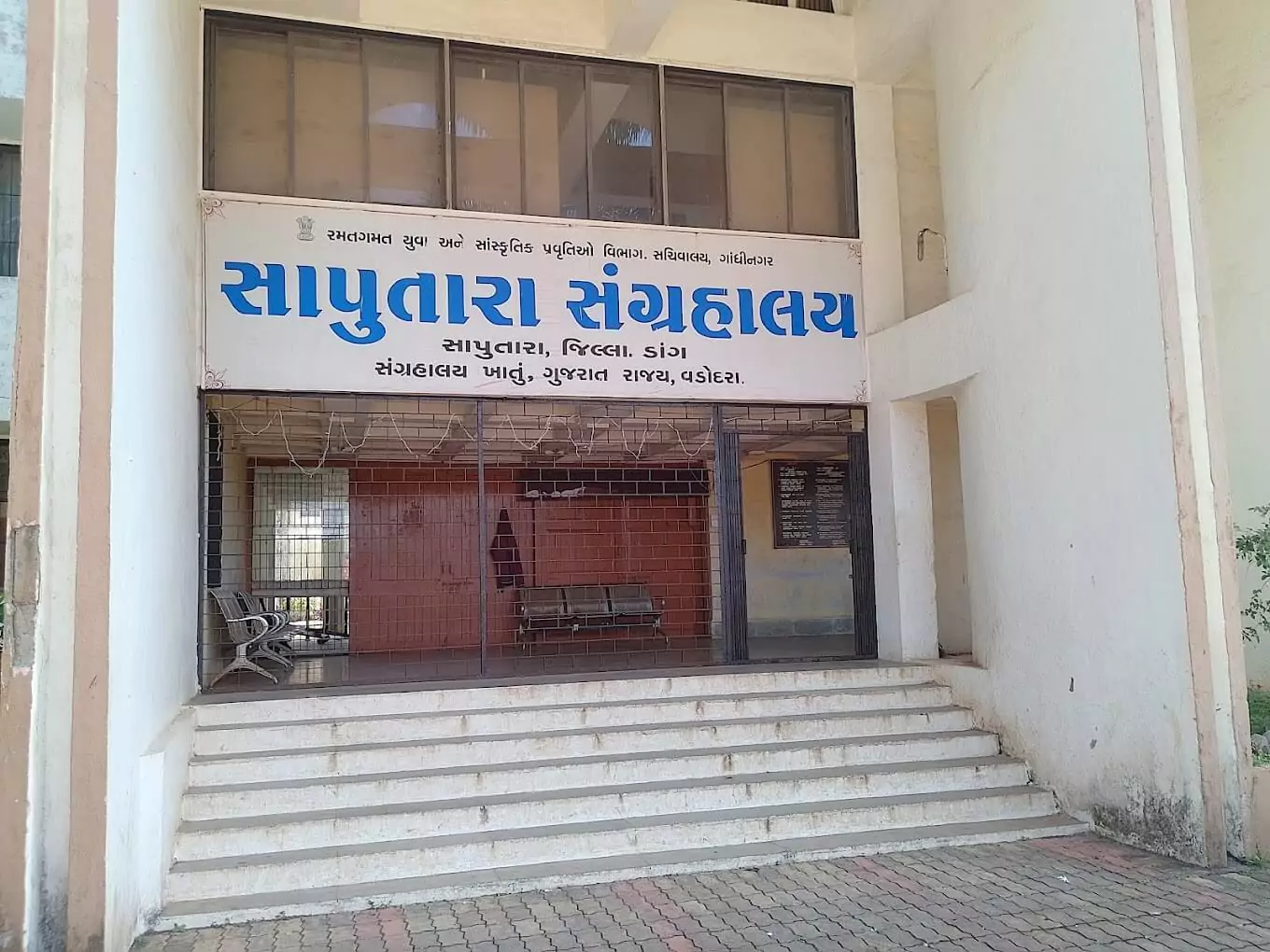 At Dang most of the population is tribal. Hence, the Saputara Tribal Museum was established to increase knowledge of the different ethnic groups, their lives, and their culture. The museum has collections of wood carvings, decorative items, musical instruments, masks used during dance dramas, writing implements, clothes, pottery, stuffed birds, jewelry, and more.
The museum educates one about the different tribes living in the region, helping lay a foundation to further understand them, as well as generate awareness. The museum also hosts workshops where you can learn tribal handicrafts.
Tribal Museum Timing: 10:30 AM to 05:00 PM
Tribal Museum Entry Fees: Rs. 1 for Students, Rs. 2 for Adults & Rs. 50 for Foreigners
5. Sunrise and Sunset Point:
Gandhi Shikhar is popular for the remarkable sunsets which can be viewed over there. You can trek up to the point otherwise take a ropeway. As you stand on the top, you'll see a burst of warm colors as the sun dips over the horizon. From there you can also see the thick green forests of Dang as well as tribal villages.
On the other hand, there's Valley View Point, known as Sunrise Point, which is quite famous for the eye-catching views of the sun rises. This point can also be reached by trekking or ropeway. Even if you don't reach early in the morning, it offers a bird's eye view of Saputara and Malegaon. Sunrise and Sunset Points provide vast photo shooting opportunities and are popular visiting spots.
The "Artist village" in Saputara is another interesting place to visit and stay there. The village has full of tribal artisans who make paintings, like Warli, and Handicrafts from bamboo. Saputara is an idyllic place where one can just go for some solitude and tranquility. It's a wonderful place to recharge our minds and bodies while making some lovely memories.
Also check: Best Movies on Amazon Prime Free
Follow Force Newz on Facebook, Instagram, and Linkedin, for the latest updates on Beauty, Astrology, Fashion, Fitness, Food & Drink, Health & Wellness, Home & Improvement, Love & Relationship, Pets & Animals, Special Events, & Travel